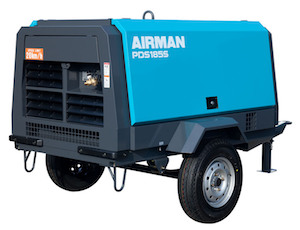 AAA Equipment Rentals is your source for air compressors & air tools in Nyack, NY. Our portable air compressors are great for powering even the heaviest of construction jobs while our selection of air tools includes clay diggers, paving breakers, and walk-behind saws. We also carry an array of accessories such as chisels, air hoses, asphalt cutters, and air tool oil to help you get the job done.
No matter the job, our selection of portable air compressors and versatile pneumatic air tools will ensure you have what you need to get it done successfully.
Here at AAA Equipment Rentals we carry air compressors from 2 CFM all the way up to 185 CFM. We have electric Diesel and gasoline engine units. We also carry a full line of air-powered hammers from 30 lbs to 90 lbs, points, chisels and other attachments. We carry rock drills and bits as well for all of your air compressor needs. We also are equipped to help with your sprinkler line blowouts with all attachments to hook up to sprinkler services.
Available Equipment:
Air Compress Trailer 2 guns #1
Air Compressor – 2 HP
Air Compressor – 4 HP Gas
Air Compressor – 6.3CFM #1
Air Compressor – 6.3CFM #2
Air Compressor – Airman 185
Air Compressor – Airman 185 #2
Air Compressor – Complete
Air Compressor – Complete #2
Air Hammer 90 Lbs
Air Hammer 60 Lbs
Air Hammer 40 Lbs
Break Bit – 60-90LB Chisel Bit
Break Bit – 60-90LB Chisel Point
Chisel Ergonomic Scaler
Compressor
Hose Air 3/4 X 50ft – Yell
Luber
Nailer – Finishing
Nailer – Floor 16 GA Porta
Nailer – Floor 18 GA Porta
Nailer – Framing 3″ Nail
Oil Line Luber – Hammer
Rock Drill
Rock Hammer
Rock Hammer Steel Rod 24″
Rock Hammer Steel Rod 36″
Sprinkler Head Blowout
Whips