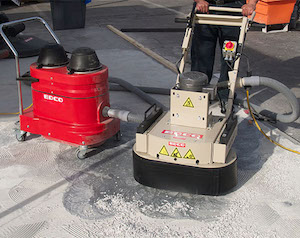 AAA Equipment Rentals is your source for surface preparation equipment in Nyack, NY. We have a fleet of concrete planers, concrete grinders, and concrete power tools perfect for industrial, commercial, and residential use.
Our selection of concrete planers are perfect for any job that requires removing large layers of concrete. These planers have a working width of 8" with a depth per pass of ⅛". Able to cover 350-500 square feet per hour, they're great for projects such as removing traffic lines or markings, removing concrete coatings, and sidewalk repair.
Concrete grinders have a working width of 22" and are perfect for jobs that require skimming concrete surfaces. Grinders can be used to add texture to concrete, remove high spots, and eliminate layers of urethane.
Our concrete power trowels are perfect for finishing freshly poured cement. We also offer finishing blades and combo blade attachments to match your job needs.
Whether you need to prepare concrete for additional layers or remove old layers of concrete and coatings, we have the equipment you need to get the job done.
AAA Equipment Rental, carries a line of Multiquip and Edco surface prep equipment. We have 36 inch concrete power trowels with finishing combos or floating blades. We have gas and electric power grinders. We have single and dual disc grinders for all of your finishing and grinding needs on concrete. We also have electric vibrators and concrete vacuums to help for easy cleanup.
Available Equipment:
Floor Buffer (Polisher)- Essex
Floor Buffer Wheel Brush
Floor Edger – Essex #1
Floor Edger – Essex #2
Floor Grinder – West
Floor Grinder DymaSert A101
Floor Grinder Strip Sert A106
Floor Grinders Elec. Dual Disc
Floor Grinding Scarifier (6)
Floor Sander – Essex #1
Floor Sander – Essex #2
Scarifiers Carbide Drum – CPM8
Scarifiers CPM 8 Electric
Scarifiers CPM8 Gas