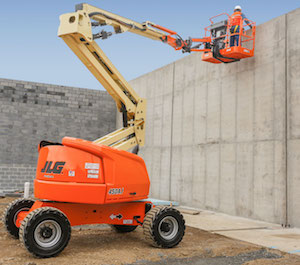 AAA Equipment Rentals is your one-stop shop for boom lifts in Nyack, NY. These elevated work platforms are also known as cherry pickers and are useful in a multitude of construction jobs, landscaping projects, window cleaning, and painting jobs.
Our straight (telescopic) boom lifts range in working heights from 30 feet to 131 feet and extend vertically. Articulated boom lifts provide horizontal reach as well as vertical reach, making them ideal for jobs with limited access or for working over obstacles.
We carry a 34 foot electric tow behind and 45 to 180 foot boom lifts. We are homeowner friendly and here to help out local landscapers and contractors choose the correct lift for their application. We have educated staff and delivery people to help you safely maneuver and operate these lifts. We have gas, propane, electric and diesel-powered lifts to meet all of your boom height needs.