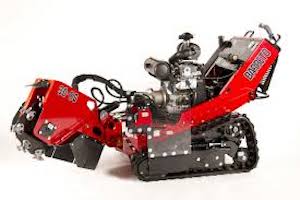 AAA Equipment Rentals is your source for stump grinders in Nyack, NY. Our durable and efficient fleet will allow you to easily grind stumps down into mulch. The advanced track system of our stump grinders enables you to work even in muddy and soft ground conditions, meaning you can complete the job efficiently and precisely.
When it comes to grinding stumps we offer some of the most advanced stump grinders on the market. Rubber track drive systems, hydraulic driven grinding wheels, easy to operate, easy to load and unload. It fits through small spaces, only being 35 in wide. The cutting arc of 47 in, will cut 12.5 in below grade. The stump grinder is always meticulously serviced with sharp cutting teeth to make your job ease.
If you're looking to remove an unwanted tree stump, we have the equipment you need to get the job done.
Available Equipment:
Stump Grinder
Stump Grinder #2 B