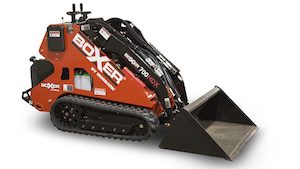 AAA Equipment Rentals is your source for track & skid steer loaders in Nyack, NY. Our diverse fleet has the machines you need to take on demolition jobs, digging, and everything in between. These reliable machines will allow you to work on a variety of surfaces and where space is tight.
We also offer an array of loader attachments such as augers, buckets, and hydraulic hammers. Whether you're working on a demolition, moving heavy loads of concrete, or leveling earth for a new driveway – we have the equipment you need to get the job done.
Here at AAA Equipment we are a Morbark boxer dealer and carry a full line of the boxer equipment. We also carry a full line of attachments from sweeper brooms, pallet Forks buckets with teeth or cutting edge, grapple buckets and auger bits. These units have rubber tracks for superior grip on asphalt and minimal damage on other surfaces. Don't have the open space to use a larger unit? This is the perfect unit for that job. They have zero turn radius traction control, ride on platform, and are easy to operate with two hand controls. We invite you please to come by and see how easy it is to operate one of these units.
Available Equipment:
500 Lbs. Hammer
Auger Attachment
Boxer 600 HD
Gehl R260
Grapple Bucket
Kubota 23 track loader
Skid Steer Bucket with Teeth
Skid Steer – Hitch Plate
Skid Steer – Bucket
Skid Steer – Brush Hog
Skid Steer – Eliminator Rake
Skid Steer – Forks Attachment
Skid Steer – Rockhound Attach
Skid Steer – Sweeper Attachment
Skid Steer Case SR250
Skid Steer Cat 287B
Skid Steer Cat 289C
Skid Steer Gehl R260
Skid Steer Gehl RT 165
Skid Steer Milling
Tile Stripper – Edco Ts 8
Track Loader T320 Bobcat